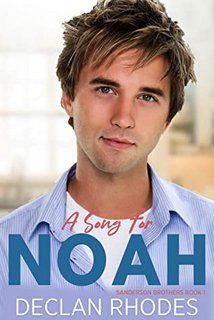 A Song for Noah by Declan Rhodes (Sanderson Brothers Book 1)
English | 2020 | Romance MM| ePUB | 1.3 MB
Noah Sanderson is about to have his younger brother's wedding, the 10th anniversary of his parents' tragic death, and the return to town of his first love, Callum, now a pop music superstar, collide in what feels like a terrifying recipe for disaster. All Noah wants to do is keep a low profile, but all three events carry hidden opportunities and secret traps. One of the most compelling is the possibility of a second chance for romance.
Callum McCrea was Noah's high school sweetheart in private, and the best friend of Noah's brother, Ike, in public. Callum and Noah kept their relationship discreet even when Callum's farewell in pursuit of a professional music career broke Noah's heart. Now, Ike is getting married, and Callum can't say no to the wedding invitation. He returns to the Midwestern town of Lincolnport as a hometown hero with a desire to bridge an eight-year gap by offering Noah friendship and a hug.
https://userupload.net/u5cw6h5l43gj