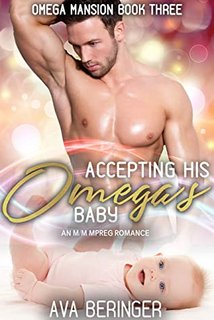 Accepting His Omega's Baby: A M/M Mpreg Romance by Ava Beringer (Omega Mansion #3)
English | 2020 | Romance MM| ePUB | 1.3 MB
I married him when we were eighteen, then turned around and broke his heart. Eight years later, he stumbles back into my life. He's pregnant. With another alpha's baby.
Mischievous, rebellious omega Taylor Hodges has gotten into trouble his whole life. Now, he's really in trouble; knocked up by a deadbeat alpha. It wouldn't have been this way with Jordan Jeffers, the strong, handsome alpha he fell for at sixteen. Taylor thought they'd be together forever, until suddenly they weren't. When a mix-up finds Taylor and his unborn child at Heartstone and back in Jordan's life, Taylor's shocked. He swears he won't fall again; then why does he find himself slipping?
Jordan Jeffers is a simple alpha. He loves barbecue, his southern roots, and his found family at Heartstone Mansion. Once upon a time, he loved someone else; Taylor Hodges, the wild, carefree omega who stole his heart from day one. When their young love was shattered, Jordan left town disowned and disgraced. Eight years later, Taylor turns up at Heartstone…six months pregnant and fighting mad. It doesn't help that Jordan's estranged father picked the same day to call. Jordan never stopped loving Taylor, but can he love a baby that isn't his, too?
Can Jordan and Taylor settle their differences before they bring the whole house down? What secrets are Jordan's fathers hiding? What about the unborn baby caught in the middle?