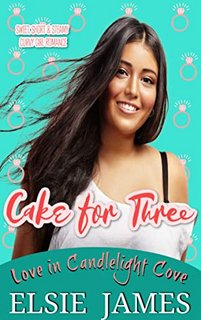 Cake for Three by Elsie James (Candlelight Cove Book 1)
English | 2020 | Romance| ePUB | 1.3 MB
Ellie
I love planning weddings, but it would be nice to find my own happily ever after.
It seems like I spend my days making others peoples' dreams into reality, while my perfect wedding plans wait on the shelf.
When I unexpectedly run into an adorable little girl, I wonder where her dad is.
Turns out we work together.
Elijah is handsome, protective, and makes me want to meet him at the alter.
But can I set aside my dreams for a perfect wedding in order to find a perfect love?
Elijah
As a single dad, there is nothing I wouldn't do for my daughter.
But between parenting and my job as head of security, I don't have much time for love.
When a gorgeous wedding planner makes her way into my life, I vow to secure her heart.
She's curvy, compassionate, and makes me want to throw caution to the wind.
Now I have to convince her that the three of us make a perfect family.
https://userupload.net/5k71zehwhdih