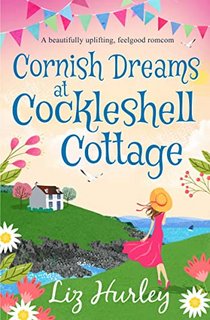 Cornish Dreams at Cockleshell Cottage by Liz Hurley
English | 2020 | Romance| ePUB | 1.3 MB
Sitting alongside the beach and just up from the gently lapping waves, sat a perfect cottage. She had found where she was going to live. Her own little cockleshell cove.
Ever since the Byrne sisters – Ariana, Aster, Clem, Paddy and Nic – discovered they were heiresses to the vast Hiverton fortune, their lives have never been the same. No longer living in poverty in London, they now own an estate in Norfolk, a castle in Scotland and a picturesque village in Cornwall.
When sensitive Paddy, the baby of the family despite her successful career as a model, swaps the catwalks of Paris Fashion Week for the cobbled lanes of Tregisky on the beautiful Cornish coast, it's time for her to stand on her own two feet.
Soon, she's settled in her new home of Cockleshell Cottage overlooking the wild surf, the seals her closest companions.
And when she meets ex-soldier Hal, she's instantly smitten. Funny, considerate, and not to mention drop dead gorgeous, he's perfect in every way apart from one – he's engaged. But after a misunderstanding brings the two together in ways they couldn't have imagined, it seems like they might just change each other's lives.
Will Paddy fall in love with more than just the glorious blue skies of Cornwall? Or are there storm clouds gathering ahead?