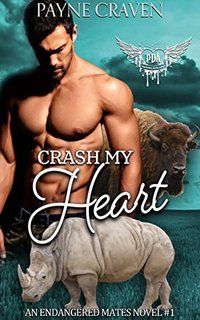 Crash My Heart by Payne Craven (Endangered Mates 1)
English | 2020 | Romance| ePUB | 1.3 MB
Love Hard. Stay Strong. Save Them. Endangered Mates!
Seraphina Moon is the last white rhino shifter. Orphaned when she was a child, she was sent to live with a crash of black rhinos for safety, but even they don't know what she truly is. When she was old enough, she left the Crash behind and moved to Seattle to become an event planner.
But even the best events can get off course when a little romance drops in the picture, and Jaime Fierce, a matchmaking librarian, is set on matching the beautiful Seraphina with the mate of her dreams.
Tantanka "Tank" Oxendine, a hunky bison shifter, is looking for his mate, and his friend Jaime Fierce is only too happy to find the perfect woman for him. He just never expected the event planner in charge of his "Save the Endangered Animals Fundraiser" would be the woman his matchmaker picked out.
Not everything can be scheduled though, and when a known poacher crashes Tank and Seraphina's party, all hell breaks loose.
Can Seraphina and Tank find a way to stop Richter before he places them in his collection, or are their species doomed when looking down the barrel of a poacher's scope?
https://userupload.net/91wx3fqhnazy