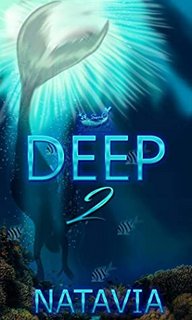 Deep 2 by Natavia
English | 2020 | Sci-Fi/Fantasy| ePUB | 1.3 MB
In part two of Deep, Elonora will stop at nothing to get the locket from Shore. That means promising Laguna everything her shallow heart desires: beauty, riches, and Zambezi.
Meanwhile, Shore and Zambezi are trying to live the life of a young couple in love, but heavy is the head that wears the crown. They soon discover the emergence of a new set of deadly swamp creatures. These crocodiles intend to takeover Lake Deep starting with getting rid of the elderly residents of Oland.
While Zambezi is ready for war, Shore is drowning in her insecurities. She doesn't feel competent as the new queen nor the woman in Zambezi's life. Especially not when Geesha, whose body is packed with the types of curves a sea dragon cherishes, makes her attraction to Zambezi known.
With so many things being thrown at the couple at once, their relationship starts to suffer. Now in the midst of fighting for Lake Deep, protecting their future, and recovering from their past, they must also nurture their budding relationship, defeat Elonora, and break generational curses. Does their love run deep enough for them to overcome all their obstacles,or are they in over their heads?