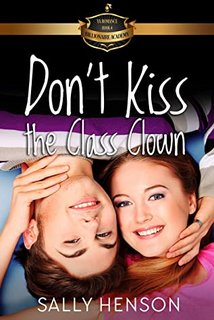 Don't Kiss the Class Clown by Sally Henson(Billionaire Academy YA Romance #4)
English | 2020 | Young Adult Romance| ePUB | 1.3 MB
Nothing like an injury and a move around the world to crush your dreams.
I should be training for the Olympics. Instead, I'm a comeback gymnast at Mount Rainier Legacy Academy. This school is known for two things: billionaires and grueling academics.
Though I've mastered the art of focus, there's one distraction I can't ignore: Ryan Jacobs.
He cracks jokes…
Constantly chatters in class…
And, wears a smile that says he's up to no good.
His carefree view of the world annoys me just as much as his bent for being the center of attention.
But he does have the most mesmerizingly perfect lips…
And when I need help after a sprained ankle, he says he's my guy.
I didn't mean to lead him on…
I didn't mean to fall for him…
I certainly didn't mean to kiss the class clown…
But maybe it's too late for my heart to forget that magical moment.
Maybe I've already fallen in love