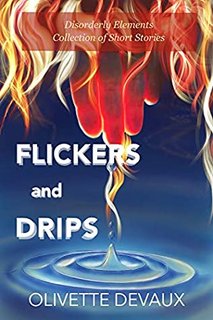 Flickers and Drips: Disorderly Elements Collection of Short Stories by Olivette Devaux
English | 2019 |Romance MM | ePUB | 1.3 MB
A collection of seven stories from the Disorderly Elements world – and two are BRAND NEW!
In a world where elementalists walk among us, they strive to coexist without blowing us away in a gale. Burning us up in an inferno. Sweeping us away in a flood.
And through all that, they love.
Explore the urban fantasy world of Disorderly Elements where the unseen is as important as events plain to the eye, and where a real-life, tangible action follows a careless thought with dire consequences.
Control. Discipline. And between adventures, a relentless pursuit of happiness.
Visit with Cooper and Ash, Sig and David, and other favorite guys – and their guys – as they reveal their back-stories and as relish their between-the-books adventures!
Five favorites are joined by two brand-new stories, published in this collection for the first time.
https://userupload.net/pbowfcs4998o