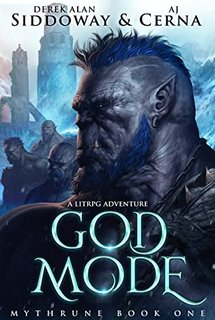 God Mode by Derek Alan Siddoway, A.J. Cerna (Mythrune Online Book 1)
English | 2020 | Sci-Fi/Fantasy | ePUB | 1.3 MB
No pain. No game.
With his glory days behind him and nothing but life as a loser to look forward to, Zane can't wait for MythRune Online, a first-of-its-kind immersive fantasy game that promises to provide just the escape from reality a washed-up athlete like him needs.
But when his younger brother learns he only has weeks left to live, Zane is forced to take his gaming hobby to the next level if he's going to afford to pay for his brother's operation and ditch their sorry life forever.
To celebrate the launch of MythRune, the game's developers announce a worldwide player tournament. The prize? Ten million dollars. More than enough.
Utilizing a God Mode bug to make himself invincible, Zane aims to win it all without getting caught.
But it doesn't work as planned. Between exploitative players, a reworked world map, a pain-sensitivity glitch that makes him feel 100% of every scratch, and a leveling system that makes grinding nearly impossible, Zane realizes there's much more to pro gaming than staying alive.
https://userupload.net/d6eir5lilpjp