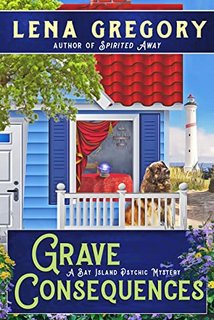 GuzlowskGrave Consequences by Lena Gregory
English | 2020 | Mystery & Thriller | ePUB |445KB
When stories begin circulating of a centuries-old ghost haunting the Bay Island lighthouse, Cass is caught up in mystical happenings of her own, with countless voices from the beyond all clamoring for her attention with dire warnings. But before she has a chance to learn whether there's a connection between the rumored ghost and her restless visitors, the lighthouse keeper mysteriously falls to his death, and Cass's reputation for communing with the dead lands her right in the middle of the police investigation.
Cass knows the victim was no saint, as he made little effort to hide his philandering ways from his wife or anyone else, and often acted out with no thought for the feelings of others. But had he finally gone too far, or were there more menacing motives behind his murder? As Cass begins building a list of suspects, including the man's supposedly grieving wife and a mysterious new woman in town, she also turns her ear to those otherworldly voices, hoping for a clue. And as she begins to close in on the culprit, she realizes too late that if she's not careful, she'll soon be communicating with the dead in person . . .