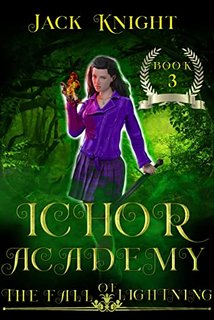 Ichor Academy: The Fall of Lightning by Jack Knight
English | 2020 | Children/Young Adult Fantasy| ePUB | 1.3 MB
All is fair in love and war. Not everyone can make it out unscathed
My name is Alexis Evans. I have saved the gods from a titan twice, and apparently nobody cares.
Something strange is going on with the academy, everyone is in danger. Obviously, Prometheus is making his next move. The worst part: the next prophecy isn't about me. How am I supposed to sit around and do nothing? This is my fight, whether they want to let me be part of it or not.
Adrian is back for good. Sam is being weird now. Dean gets permission to run off and save the world while I sit around and help protect the academy. Hermes is in the mix, now. Basically, I can't turn around without running into someone who wants me to choose them, and I don't know what to do. Especially when things start to heat up with certain people.
Love and war are both escalating. And, I'm not sure I'm ready for either one.