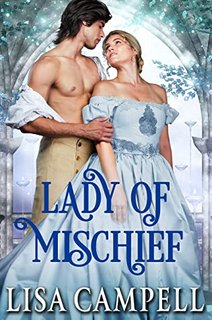 Lady of Mischief by Lisa Campell
English | 2020 | Romance | ePUB | 1.2 MB
.ePUB/AZW3 Reader, 1.2 MB
Overview: In Cinderella, the stepsisters are evil. But what if there was a stepbrother?
Lavinia Crawford was anything but a lady, at least that's how others made her feel. When her mother got married to the Duke of Somerset, Lavinia had to be transformed into a debutante of the ton, a notion she despises.
Her metamorphosis from commoner to noblewoman proves to be an impossible task, but then, help comes from the most unexpected source. Lord Colin Crawford spent five years away from his father's new family while chasing his passion for drawing. Now he is back and entrusted with an impossible mission: turn his vixen stepsister to an impeccable lady.
Colin's plan is to focus on his art and not on a futile project. However, upon meeting Lavinia, he will discover the muse he was searching for. A muse forbidden to him, which only makes his desire stronger… His mission was to tame her, not fall for her…
Genre: Romance, Historical