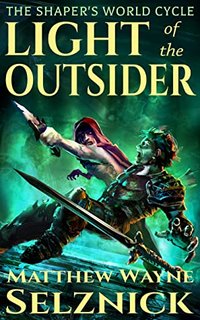 Light of the Outsider by Matthew Wayne Selznick
English | 2020 | Sci-Fi/Fantasy| ePUB |697 KB
In LIGHT OF THE OUTSIDER, a group of desperate people are thrown together to recover a kidnapped infant prince before ethnic, international, and magical pressures can threaten the stability of the entire continent and millions of lives.
LIGHT OF THE OUTSIDER is a character-driven fantasy adventure / thriller hybrid with touches of noir and the threat of cosmic horror. Even though it's the first of a trilogy, the book stands on its own. I won't cliffhanger you on the last page!
Is there magic? You bet!
Crime? The whole thing's set off by a vile act. A few, in fact.
Violence? Yes.
Intrigue? Sure! The fates of a child, a city, an empire, and maybe an entire world are at stake.
LIGHT OF THE OUTSIDER is the first novel of the Shaper's World Cycle and volume one of The Outsider Trilogy.
The Shaper's World is a fully-realized original fantasy setting in which three sentient hominid species struggle to peacefully co-exist… while encroaching forces from beyond reality threaten existence itself.