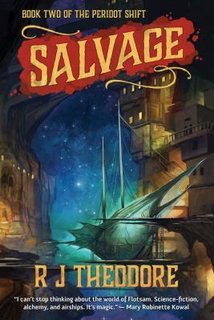 Salvage by R.J. Theodore (Peridot Shift #2)
English | 2019| Sci-Fi | ePUB | 1.8 MB
.ePUB reader, 1.8 MB | Version: retail
Overview: The shattered world of Peridot and its floating island nations are in grave jeopardy. Corruption has infested its governments. An alien threat has killed one of its gods. The souls of its people and the very planet, itself, hang in crisis. And it's up to Talis and the best gods-rotted airship crew in the skies to set things right–if only they had a ship.
Stranded on a remote island in the distant skies of Peridot, Talis and her crew know the truth and find themselves the targets of governments and gods, traitors and terrorists alike. Can Talis and her crew take flight again and fight through the forces filling the skies to save Peridot before its people are consumed and its islands fall from the heavens?