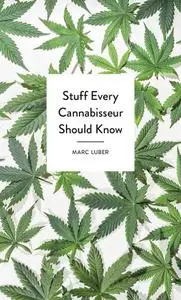 Stuff Every Cannabisseur Should Know (Stuff You Should Know) by Marc Luber
English | April 16th, 2019 | Educational | EPUB | 9.30 MB
Stuff Every Cannabisseur Should Know: The perfect gift for the cannabis-curious and the cannabis-lover in your life, this pocket guide includes the history, culture, and many uses of cannabis, from recreation to self-care.
Cannabis has been one of the most popular psychoactive herbs across the world, from ancient civilizations to today. With the legalization of cannabis across the United States, there's never been a better time to learn about its history, many uses, methods of use, effects, and strains, as well as its impact on entertainment and culture. Within the pages of this pocket-sized guide, you'll find information, how-tos, and trivia for cannabis users at all levels.
The cannabis-curious and cannabisseurs alike will learn:
• How to Roll a Joint/Cone
• How to Do a Bong Hit
• How to Dab
• How to Grow in Legal Environments
• How to Buy from a Dispensary
• And more!
https://userscloud.com/t56p87c6f5a9