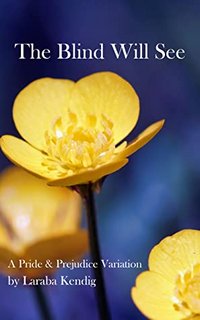 The Blind Will See: A Pride and Prejudice Variation by Laraba Kendig
English | 2020 | Romance | ePUB | 1.3 MB
George Wickham joined the militia in Meryton to enjoy the company of handsome ladies and perhaps win a well dowered wife of his own. Instead, he is wounded in a training accident a few days after his arrival.
Miss Elizabeth Bennet, distressed on Mr. Wickham's behalf, confronts Mr. Darcy, the man she believes dishonorably deprived Wickham of a valuable living in the church. She learns, to her shock, that the handsome militia man had been thoroughly dishonest about his former dealings with the handsome master of Pemberley.
With many false beliefs swept away, and a wounded and disfigured Mr. Wickham contemplating his life choices, beloved characters from Pride and Prejudice find themselves on a new trajectory for their lives. For when the Almighty shines His light into the lives of men and women, the blind will see.
https://userupload.net/c33ymy824jem