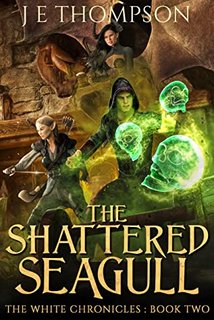 The Shattered Seagull (The White Chronicles #2) by J. E. Thompson
English | 2020 | Sci-Fi/Fantasy| ePUB | 1.3 MB
The Adventure Continues
It's just a stroll down the road. How hard can it be?
Despite their dubious successes in the past, Vexx and his two companions find themselves back where they had started: penniless and scrounging the streets of Cloudbury for menial work.
When they chance upon what seems to be a simple delivery quest to Golden Streams Landing, Vexx accepts it with no hesitation. But what Vexx doesn't realize is that the roads leading to the city are treacherous, and that there are powerful enemies basic fire magic and rudimentary necromancy can't defeat.
In this second riveting installment of The White Chronicles, follow Vexx and his fellow adventurers, an innocent elf and a delightfully wicked succubus, as the long road to Golden Streams Landing teaches them what it really means to be dungeoneers.