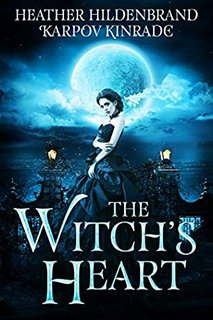 The Witch's Heart by Heather Hildenbrand, Karpov Kinrade
English | 2020 | Romance| ePUB | 1.3 MB
: From award-winning author Heather Hildenbrand and award-winning and USA Today bestseller Karpov Kinrade comes a page-turning standalone paranormal reverse harem romance full of mystery.
Sticks and stones may break my bones, but a witch's heart is eternal.
I had a pretty good life once upon a time. An art student in Paris. Friends. Hobbies. French boys. I was living my dream.
That all ended the day my twin sister took her own life.
My mind began to slip, the darkness consuming me. And I knew I had to stop it.
But my plan didn't work, and now I'm an unwilling "guest" of Le Reve, a hospital that promises it will cure me.It doesn't take me long to realize that there is no cure for what's wrong with me.
Because I'm not human. No one here is.
And the man who runs this place doesn't want to heal us, he wants something much more sinister.
I would have lost my sanity entirely if not for the twin werewolf brothers imprisoned with me, and the dangerously beautiful vampire doctor who may or may not be evil. It's hard to know who to trust when I can't even trust what I see.
But if I don't figure it out soon, I will lose everyone I love.
Including myself.
The Witch's Heart was originally published as Mad Girl: Locked Up. Now with a new ending and expanded content.
https://userupload.net/iy0d5jshwy3a