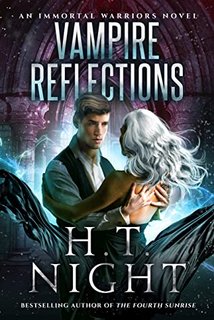 Vampire Reflections by H.T. Night
English | 2020 | Romance | ePUB |207 KB
Todd has been living a simple, albeit sheltered existence, as a vampire. He has lived with his human wife and worked with his human partner hunting down rogue vampires who are a danger to society.
Todd's life changes dramatically when time takes his beloved humans away from him. He is left all alone in the world. Feeling lost without his anchors, he tentatively reaches out to the vampire world and happens upon a group fighting against a brutal enemy. Being one who always takes the side of the underdog, he jumps in and helps.
Now, he has teamed up with Josiah Reign and his crew. He is one of them and soon learns that he isn't the only one who has difficulty letting go of his past. Will he find the familial bond with this new group of undead warriors? More importantly, will he be able to help remove the "dead or alive" bounties on all their heads?